"Mommy, What's A Golden Triangle?"
So it was a chance meeting on the District Line, westbound, sometime in late 2001 or early 2002, that got Tom and me moving on GTR. As noted on the right, the fact that we'd both been independently researching the most amateurish of record labels (Creation) and the most unbusinesslike of bands (The Clash) had a lot to do with our shared - and, it turned out, completely justified - belief that, hell, We Could Do That. The paperwork for the company was obtained through the kind offices of a legally-qualified relation, and I hit on the name. Our first board meeting was either in the Chandos (off Trafalgar Square) or the Marquis of Granby (on Shaftesbury Avenue). Can't recall which, but all of what we liked to call our "business" was done in one or the other of those venues.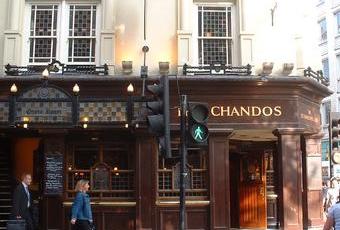 History - made here...?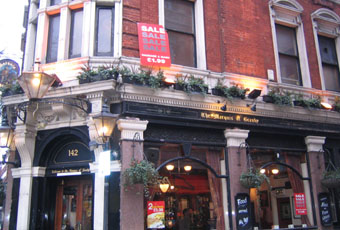 ...or was it here?
The first band on the label's roster was, naturally enough,
Big Red
, which Tom was the singer in (and I had been the bassist in, off and on, although at that point the position was filled by Dan Hawthorn, not only a better bassist but a better dancer, and possessed of a bigger amp, to boot). They recorded a single which we decided to release as a 7" exclusively.
This was the first of many
absolutely terrific
business decisions...
In our next thrilling installment, a track from this 7" may or may not be posted, and there may or may not be a stirring critical analysis of its place in the onward march of western civilisation. In the installment after that, we shall probably meet the second act on the label, and I expect that this shall in turn be followed by a poignant remembrance of A Parting Of The Ways.
Labels: big red, golden triangle records
posted by Golden Triangle Records at 6:42 AM